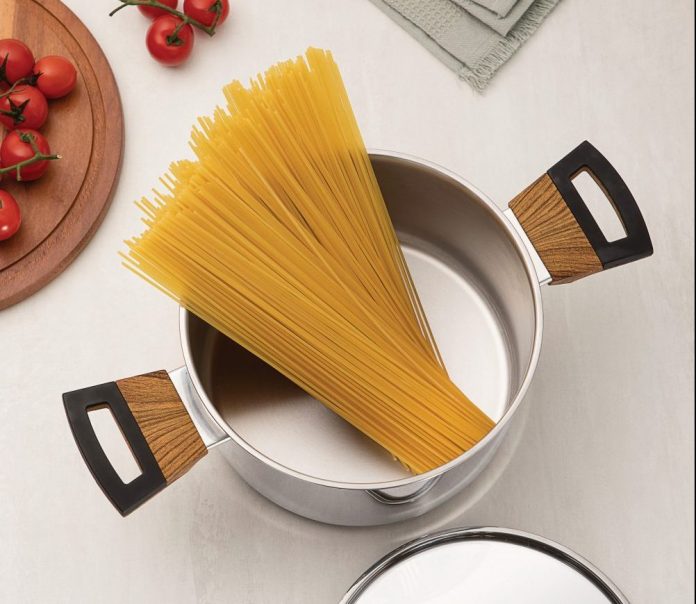 Known in the UK for its cutlery and knives, Brazilian brand Tramontina is set to unveil its cookware to the UK market for the first time, at Exclusively Housewares
Known primarily in the UK for its cutlery and knives, including its Churrasco collection, featuring dishwasher-safe real wood (certified) handles, Tramontina has now bolstered its UK portfolio to include cookware.
Set for a UK launch at Exclusively Housewares, London, June 11-12, Tramontina will unveil Brava, which comprises two four-piece cookware sets – one stainless steel and one stainless steel with non-stick interior.
Both sets offer an essential range comprising a 16cm saucepan, 24cm casserole, 20cm deep casserole and 24cm frypan.
Many features prevail – the triple layer base ensures even heat distribution and more efficient cooking and is suitable for all hob types including induction. The tight-fitting lid includes a steam vent, and all items are dishwasher-safe.
Aside from these key functional features, one of the most overriding aspects of Brava cookware is its stylish appearance, originating from the striking contrast of the stainless-steel body against wood-effect handles on both the pots and lids.
Extremely ergonomic and tactile with a velvety soft touch, these wood-effect handles are, in fact, made from heat-resistant Bakelite. An additional stylish element features on the stainless-steel set with the wood effect further benefiting from a black contrasting element.
Both sets come gift-boxed. Find Tramontina at Exclusively Housewares, June 11-12, 2019, Business Design Centre, London.
www.tramontina-churrasco.co.uk