RIG-TIG has introduced a new Moomin range for children focusing on the alphabet.
The alphabet created for the RIG-TIG x Moomin ABC collection is based on author Tove Jansson's original lettering. Moomin ABC consists of a cup, a plate, a deep plate, and a drinking bottle. The collection is suitable for everyday use but is also a perfect gift for families with kids.
The cup comes in 26 versions, each with a letter from A to Z and an illustration of one of the quirky and fun characters from the world of the Moomins on the side of the cup. If you have a toddler, a sippy lid can be bought for the cup separately. Both the plate and the deep plate have been specially developed for small hands and fingers. The organic shapes make it easy to hold onto for children, and the low, curved edge also ensures that the food stays on the plate. Along the edge of the plate, the entire Moomin ABC alphabet is depicted along with the fun characters from the world of the Moomins. On the deep plate, you will find the numbers from 0-9. The graphics inspire to play with words and can help spark the child's interest in letters.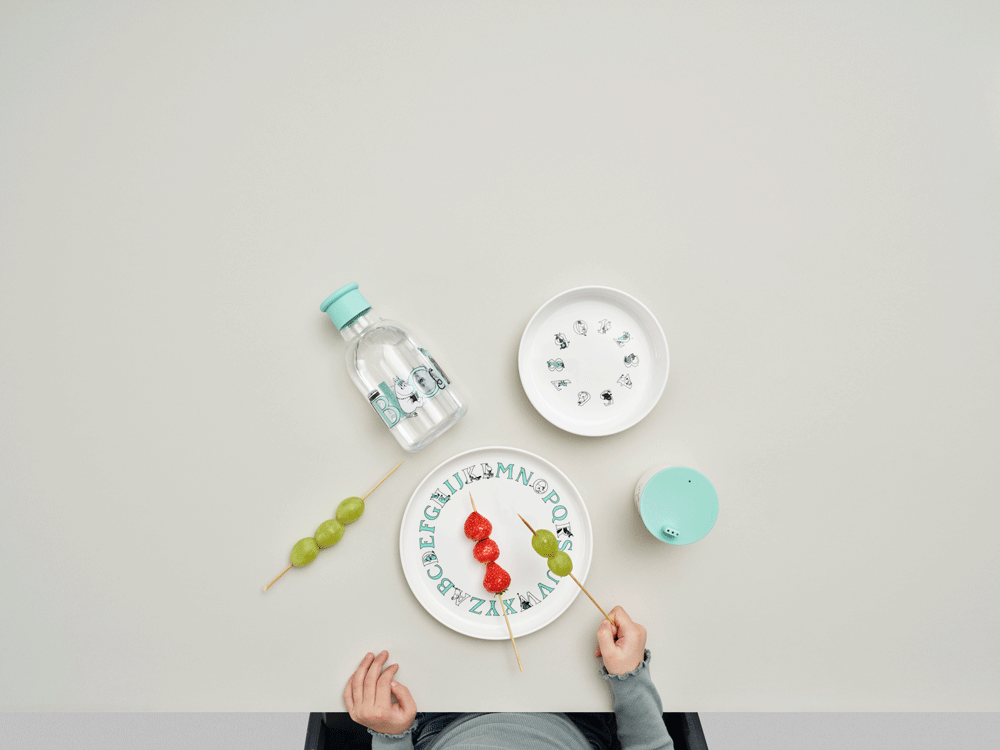 The Moomin ABC drinking bottle has a volume of 0,5 l. The bottle has a good size for school or excursions with the kindergarten, does not take up too much space in the bag, and does not become too heavy to carry. The bottle has a screw cap, which is easy to screw on and off for everyone in the family and ensures that the bottle is drip-free. The bottle bears illustrations of the Moomin ABC letters along with the familiar and whimsical characters from the world of the Moomins.
All items in the collection are microwave and dishwasher safe and naturally free of melamine, BPA, phthalates, and other harmful substances.