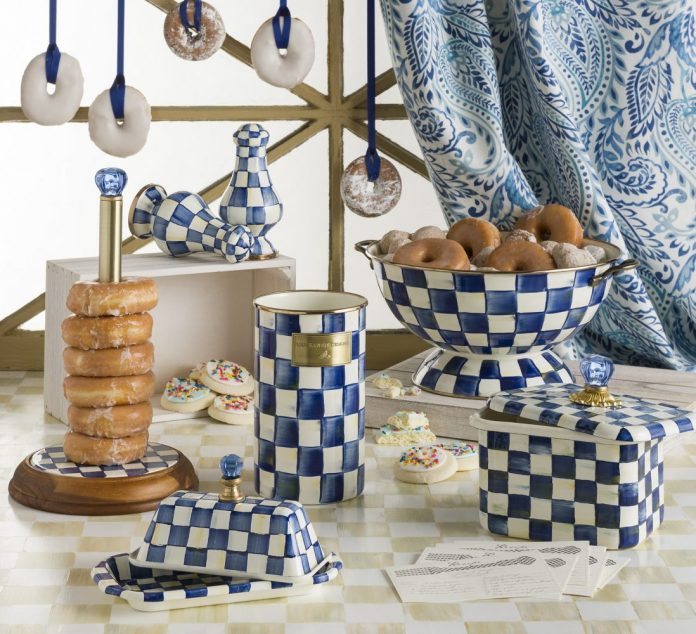 The newest pattern from whimsical homeware brand MacKenzie-Childs updates its famed Courtly Check with the Royal Check – a royal blue version
Royal Check, the newest pattern from MacKenzie-Childs, is similar in theme to the company's signature black and white Courtly Check pattern, but features royal blue with additional colours that are teased into the pattern providing depth and texture.
Royal Check was inspired by the blue waters of the company's Finger Lakes location in Upstate New York.
The pattern is featured in MacKenzie-Child's Spring 2019 collections that include hand-painted enamelware, including the brand's famed Tea Kettle, kitchen linens, and outdoor furniture.
Like the popular Courtly Check enamelware, the Royal Check version features heavy-gauge steel underbodies, rimmed in bronzed stainless steel, and hand-painted with colour-dragged checks.
Royal Check complements other MacKenzie-Childs patterns, too. Pair it with Courtly Check for a perfect check mate or put it with Flower Market for a tabletop presentation that blooms with possibilities. Royal Check also mixes with heirloom china patterns, including classic Blue Willow.
MacKenzie-Childs, located in Aurora, New York, has been making one-of-a-kind products that add joy to homes for more than 35 years. Colourful handmade ceramics, enamelware across kitchen products, glassware, and furniture define the company's collections.
Contact internationalaccounts@mackenzie-childs.com for inquiries about Royal Check and MacKenzie-Childs.